Events
The Joseph Thomson Maasai Trust are organising the very first PENPONT SAFARI, a challenging 10km hill run to the heights of Kilimanjaro (Tynron Doon),then plunging down into the Rift Valley and across the Tsavo River (Scaur) to finish back in Penpont outside Joseph Thomson's birthplace in the Marrburn Road.
This great event will  be held on Saturday 2 September 2017 starting at 11.00am. 
For those who prefer to walk and to keep to more moderate gradients, there is a 4km route which still traverses the dangers of the Rift Valley and the mighty Tsavo, so expect wet feet. For children there is the extra element of spotting and collecting the native African animals hidden in the dense foliage as they go round the course. 
Enter the Safari Run via www.entrycentral.com and the Safari Challenge can be entered in the morning.
The Trust are delighted to be able to offer  prizes for the first gent and first lady to finish. These are vouchers for a meal at the lovely Trigony Hotel, Closeburn.
All competitors will receive a goody bag including a memento of the day and refreshments at the end of the race.
Tea/coffee with home baking will be available as will a barbeque in Gladstone Park.
This safari will be a great celebration of the unique link between Dumfriesshire and Maasailand. Residents of the village and surrounding communities will be turning out to cheer the runners on.  William Williamson, a descendant of Joseph Thomson will be the compere for the event which is to start from the Gladstone Park in Penpont and finish outside Joseph Thomson's birthplace at Sundial Cottage in the Marrburn Road.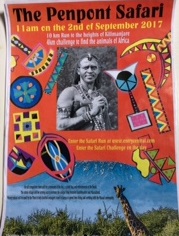 Money raised will be used to help Scottish young people travel to Kenya to spend time living and working with the Maasai community.  
It is hoped that this will be become an annual event.
For further information, please e-mail jt.maasai.trust@gmail.com