Welcome to Joseph Thomson Local Heritage Centre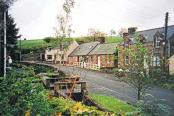 Welcome to the Penpont Local Heritage Centre. The Centre has been developed jointly by the communities of Penpont, Keir and Tynron to commemorate the life of Joseph Thomson, a Victorian explorer of Africa, who was born in this cottage in 1858. 
The Centre also celebrates the culture of the local communities represented and tells visitors about many of the other attractions of mid-Nithsdale. In addition, the Centre provides community facilities for family and local history research, education and training, events and exhibitions.